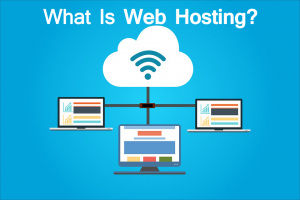 Web hosting is a service that allows people to publish websites or web pages to the Internet.
Websites are usually stored on special computers called servers. A web host, or web hosting service provider, is a business that provides the technologies and services needed for the website or webpage to be viewed on the Internet.
When Internet users want to view your website, all they need to do is type your website address into their browser. Their computer will then connect to your server and your webpages will be delivered to them through the browser.
A web browser is a computer software for retrieving, presenting and traversing information resources on the world wide web. Tim Berners Lee is credited with creating the first web browser in 1990. Ever since, web browsers have evolved. Read more on web browsers here History of the web browser
In order to host a website, you need a domain name. A domain name is like your postal address, Internet users will need your domain name in order to access your web site.
Benefits of Using Web Hosting Services.
Online footprint for your brand: When you publish your website, search engines and people are likely to find it. You can leverage on this to expand your brand awareness and even increase sales. A website that has higher SEO rankings is most certainly going to generate more leads for your business.
Domain Linked Email Addresses – When you register your domain name and use it to host your website, you could use the same domain for your emails. You could set up emails like info@yourdomain.com, inquiries@yourdomain.com etc
Data Storage: When you purchase a web hosting plan, you could use it to store files. A web hosting service can act as your secondary storage service, you could back up your files and store them on a second server.
File Sharing: You could use a web hosting service to transfer and share files.
List of web hosting companies in Kenya
Web hosting is a business that has found its way in the Kenyan market. Recently, we have seen increased growth in the number of players in this industry. Below, I have prepared a list of companies in this business.
Shujaa Host: To order ShujaaHost's services visit www.shujaahost.co.ke
TrueHost
Kenya web experts: To order Kenya web expert's services visit www.kenyawebexperts.com
Host Poa
Webhost Kenya
Peak and Dale Solutions
Safaricom
Domains Kenya Limited
Buy Domain Kenya
EAC directory
Buy Domain Kenya
Sasa host
Afri Register